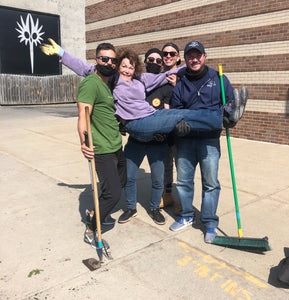 2021 Hertel Clean Up
What a wonderful Saturday it was in our North Buffalo neighborhood and along Hertel Avenue on April 24th.  This sun was shining, the day became warmer and the positive energy was everywhere as so many came out to partake in the annual Hertel Spring clean up event! From the Girl Scout troop, the Delaware Soccer Club,  the Nardin girls, St Joe's boys, some of the small businesses, and the wonderful residents, the Avenue (and parking lots) were  cleaned, weeded and mulched to prepare for our summer season! This was by far our BIGGEST turnout and we are still in awe and so appreciative of all the hands that showed up to help. 
.   
Thanks  to Council Member Joel Feroleto for donating the water, and County Legislator Lisa Chimera for donating extra masks.  The Tool Library provided us with extra tools (what a great resource they are!) and a big shout out goes to Cousin's Landscaping and Keith Adornetto's Landscaping for pulling thru once again with mulch, supplies, and extra hands to get the job done.  They made the morning run smoothly, and kept things moving along. 
We also want to thank Daddio's Pizza for supplying food/drinks for everyone that gave their free time for this event which ultimately helps to bring businesses and the neighborhood together. 
We know it has been a tough year (even longer really) for so many so we can't express how thankful we are for the people that showed up, got a little dirty, maybe a bit tired afterward, to embrace in the efforts to make our Avenue look better for the upcoming Spring/ Summer season.  Each and every person are the positive force that continues to make our neighborhood a wonderful place to live, to work and of course, to play. 
---