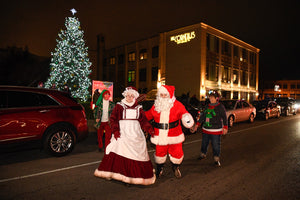 2021 Hertel Holidays!
The Holiday Season of 2021  once again came upon us with some uncertainty due to the ongoing annoying presence of COVID.  However, that did not stop the Christmas Spirit from shining thru, and people were out and about enjoying the festivities of the Tree Lighting Ceremony, along with visiting the small businesses along Hertel Ave to show support.  Hot Coco was handed out (thank you Dash's for donating!),  carolers  were singing,  and Santa and Mrs Claus along with their elves paraded down the Avenue in their sleigh to be part of the Tree coming to life with lights. We appreciate the  wonderful tree donation by Councileman Joel Feroleto that really makes the season so much brighter for all.  Santa's mailbox was present for letters from excited children in hopes of receiving their favorite gift on Christmas. Our sign "We Are North Buffalo Strong" was displayed to remind our community that we will keep moving forward together.   Although Santa and his crew did not enter the businesses this year (safety), they did make rounds along the pavement on Hertel and also in the sleigh to spread cheer.  They also made sleigh rounds 2 other nights along the neighborhood streets with music, waves and holiday cheer.  We are thankful to the community for donating non perishable items for Feedmore WNY this season. It is always important to help the less fortunate or those who have fallen on hard times.  
Thank you to one and all for coming out and supporting another Holiday Season on Hertel Avenue and the North Buffalo neighborhood. 
Cheers to 2022 !!  We wish everyone good health, good luck and much happiness with family / friends.   
---