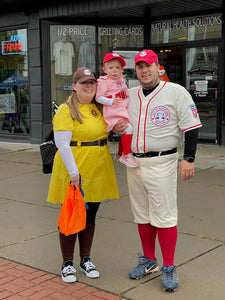 2021 Spooktacular Halloween Event
Once again, Buffalo shakes it up and throws us surprises with its weather and that was no different on the morning of our 1st Spooktacular Halloween event along blocks of Hertel Ave on October 30th, 2021!  Cold, rainy, misty, was the start of the day as the street was closed off and vendors were starting to show up to set up for a new event meant to be fun for adults, as well as the kids.  Closing the street off made it MUCH safer for the kids to walk around and the vendors enjoyed being set up in the street so folks could browse around, in and out, and visit the shops as well! We were so pleased that the morning rain turned into a rather enjoyable fall weather day overall but we all know that Buffalonians will brave a lot to get out to support, and enjoy a festival! 
We are sure that the kids went home with plenty of candy, and we hope that the adults purchased fabulous gift items, which support all of our local small businesses. It was so nice to see people out and about and know that our neighborhood is doing so much to make this a destination in our City.  Costumes were fantastic and smiles from the children were priceless. 
This is an event we want to continue on, so expect another Spooktacular event next year! As always, you learn along the way but taking the first small steps creates a path to a bigger road ahead.  
Big thanks to Councilman Joel Feroleto and his staff for attending and passing out candy to the kids that attended the festivities. Also, thanks to resident member Alexus Scott were stepping up and helping us with our HBA table! We so appreciate her support and enthusiasm in our neighborhood! 
List of vendors that took time on a Saturday afternoon to set up, and help make the event a success!
Big Brother Big Sisters

716 Reality Group

Sweet Crafters 

Hades Hollow

Buffalo Ukulele Club

Happiness is Handmade

Bflo Hydration 

Spoke & Dagger

Backroom Vintage

Daisy's Doghouse

Laundremutt 

Monroe Medispa

Her Story

Frank & Maria Veggie Farm

Happy Craft Company

Molly Platt Etsy

Lulani's Tables

Alpha Importers Olive Oil

Soaring with Creations

Alanna Herne Woodworking 

Love never Dies

Gramma Mora's 

Terri's Workout Center

Girl Scouts of America 

Tee Shirts for Awareness

Little Buffalo

Tiana Boyd 

Stella & Brooke Gift Studio 

Dark Grounds Cafe 
---